The United States is not only a country with a leading industry, but also a country with advanced modern agriculture, this is the cradle to choose to create the most elite high-yielding beef and dairy cow breeds. world.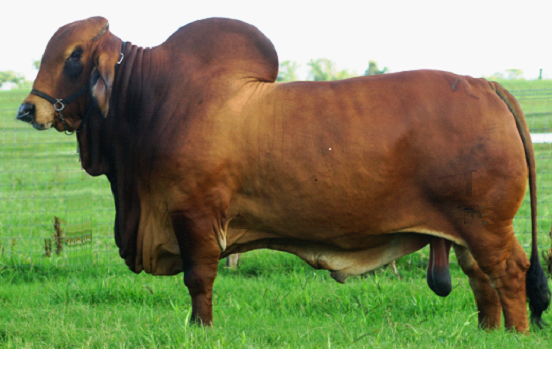 In beef breeds originating from the United States, Brahman cattle is a world famous beef breed created in the late 19th and early 20th centuries. Brahman cows have red hair color. , white, or gray, of large stature, of solid, strong physical appearance. Cows have shoulders, bibs, developed skin folds under the navel, large and drooping ears, high legs, and long tails. The weight of newborn calves is from 25-30kg, the weight of 6-month-old calves is from 130-160kg, the adult weight is 800-1,300 kg. The ability to increase weight from 0.7-1.5 kg/day depending on the feeding stage. Currently, Brahman cows are widely raised in over 60 countries due to their high adaptability, good resistance to diseases, fast growth, and benignity. Many countries in the world, including Vietnam, mainly import red Brahman cows, due to the people's preference for raising red cows, for domestication and cross-breeding with local cows in order to improve and raise the standard of living. stature, productivity of the hybrid.
On November 27, 2015, the Central Large Cattle Breeding Center - VINALICA imported 10 excellent purebred Brahman bulls from the United States to the Moncada Frozen sperm production and research station (Tancada). Linh, Ba Vi, Hanoi) for the production of high quality frozen semen for practical use in the breeding of Vietnamese beef cattle. These are 10 individuals of Brahman bulls carefully selected by experts from the Ministry of Agriculture and Rural Development, the Central Large Cattle Breeding Center to the United States, cows aged 15-24 months. but with stature, the "super-long, super-heavy" weight reaches 500-700 kg, it is forecasted that by adulthood the weight will reach from 1,100-1300 kg.
The Central Large Cattle Breeding Center (VINALICA) is a non-business unit, under the Institute of Livestock Production, Ministry of Agriculture and Rural Development, where it is the only facility in Vietnam that has the task of raising livestock. original breeds, selection and import of high-yielding purebred foreign buffaloes and bulls from countries with advanced husbandry in the world for rearing and production of frozen semen for improvement and productivity improvement, quality of buffaloes and cows of 63 provinces and cities nationwide. Every year, the Center produces and supplies millions of doses of VINALICA branded frozen bovine semen to the market with high quality and high quality semen but the price is only 27,000 VND/dose (equivalent to 1.2 USD). much cheaper than imported buffalo semen of equivalent quality (priced from 5-10 USD). In particular, due to being manufactured using modern German machinery and equipment, advanced Japanese production technology and a team of skilled technical experts, VINALICA brand frozen beef concentrate is always guaranteed. The highest quality, conception rate in cows always reaches 70%, while imported bovine semen only achieves conception rate on cows ≤55% (with the same skilled invigilators). good quality).
Thus, with the precious genetic resources of 10 "super-long, super-weight" US Brahman bulls imported by the  Central Large Cattle Breeding Center  in 2015, frozen beef semen specializes in branded meat. VINALICA satisfies the needs of cattle farmers in the country for the development of high-yield beef production, greatly contributing to the breeding of Vietnamese cattle in the ever-increasing trend of TPP integration.