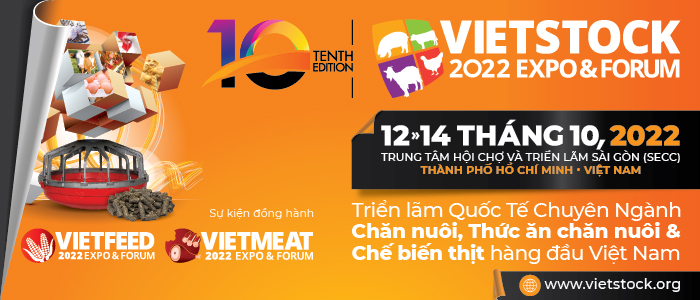 VIETSTOCK EXPO & FORUM 2022, Vietnam's leading specialized trade show Animal, Feed, Seafood and Meat Processing , is expected to be the largest-scale event in Vietnam and Indochina in the year. 2022 showcases comprehensive solutions in the Livestock, Feed, Seafood & Meat Processing industries. The event will take place in the city. Ho Chi Minh City from October 12-14, 2022 at Saigon Exhibition and Convention Center (SECC), District 7 and will mark the 10th edition this year.
Livestock Industry Exhibition & Conference VIETSTOCK EXPO & FORUM 2022, combined with  VIETFEED - Specialized exhibition of animal feed, VIETMEAT - exhibition specialized in meat processing is a place to gather, meet, exchange and share experiences experience of the expert community in the livestock - aquaculture - processing value chain, thereby finding new solutions, opportunities and cooperation for the industry. The combination of these events provides businesses with a comprehensive and unique specialized playground to connect and promote the development of the value chain from farm to fork.
Sponsored by the Department of Livestock Production under the Ministry of Agriculture & Rural Development, the Exhibition VIETSTOCK EXPO & FORUM 2022 is expected to attract more than  200 exhibitors international and domestic. During the 3 days of the exhibition from October 12 to 14, there will also be side activities such as International Conference Program, Technical Workshop as well as the Vietstock Awards 2022 Livestock Industry. The event is not just a Show. The perfect business forum to display superior technologies & products, but also an opportunity to meet, exchange, learn new specialized knowledge as well as an opportunity to be honored in the Livestock industry.
This year at Vietstock Exhibition 2022, for the first time, the  Waste-to-Energy Pavilion  with the theme of Treating Waste in Livestock into Renewable Energy was launched to introduce the Biogas and Biomass models as well as emphasize. the importance of renewable energy in the livestock community. Moreover, the Waste-to-Energy Pavilion  will create many potential opportunities for domestic and international Biogas technology & service providers to connect with farmers and buyers in Vietnam and other countries. in the area.
According to Rose Chitanuwat, ASEAN Regional Director, Informa Markets, "Global trends in sustainability are now driving all business sectors to reshape their businesses by building build insight into sustainability. The livestock industry also offers innovation on how to create a sustainable farming system. Livestock production is one of the businesses with many opportunities for improvement towards sustainability. Poultry and pork meat is still in growing demand in Southeast Asia due to culture, lifestyle and preferences. Southeast Asian countries have contributed as one of the leading suppliers in the world market."
VIETSTOCK EXPO & FORUM 2022 is expected to attract more than 10,000 buyers & experts who are members of the value chain including livestock, feed and meat processing in Vietnam & Indochina countries. The exhibition is expected to be the largest trade event for the leading Livestock, Feed and Meat Processing Industry in one of the fastest-growing markets in the ASEAN region.
For Exhibiting under Waste-to-Energy Pavilion, please contact our team for further information:
Ms. Michelle – michelle.lu@informa.com | +84 909 567 633
Ms. Rita – rita.lau@informa.com | +60 16 206 9096
For more information about the Exhibition, please contact the Organizing Committee:
Ms. Michelle Uyen – michelle.lu@informa.com to register for a booth
Ms. Phuong – Phuong.C@informa.com for Visiting to register to visit
Website:  www.vietstock.org
Register to visit the exhibition here:  https://ers.ubmthailand.com/vs22
—————
ABOUT INFORMA MARKETS
Informa Markets offers a trading platform, innovation and development for specialized industries and markets. We provide customers and global partners with the opportunity to engage, experience and do business through direct connection, deep digital content, and application data solutions. With a portfolio of more than 550 international B2B events and brands in multiple sectors, including Healthcare & Pharmaceuticals, Infrastructure, Construction & Real Estate, Fashion & Apparel, Hospitality, Food Food & Beverage, Health & Nutrition, and many more. As the world's leading exhibition organizer, we help realize diverse specialized markets and open up opportunities for growth.
For more information, please contact  www.informamarkets.com