Gia Lai is considered as one of the localities with strong growth in animal husbandry with a herd of up to 450,000 cows. However, food shortage is always a challenge for the province's livestock industry, especially in the dry season. Accordingly, building a large sample grassland for cattle raising is one of the sustainable solutions.
Efficiency from the grass planting project
Bringing the cows down to the young pasture, Ms. Nguyen Thi Nghiem (population group of Street 2, Dak Po town, Dak Po district) said: "In the past, the family's cows were grazed naturally. In the dry season, I have to take the cows far away, but I don't have enough. Thanks to the new grass varieties from Dak Po Animal Breeding Farm, the family's pasture is always green and the food source is always abundant. Currently, the family has 1 hectare of grass that is well taken care of, ensuring food for 18 cows. Also growing grass seed from Dak Po Livestock Breeding Farm, Mr. Nguyen Duc Duong (Household Group 2, Dak Po town) is excited: "The family has been asking for seeds for 2 years now, has enough food, so the cows are herd. well developed, the family's economy has also improved as a result."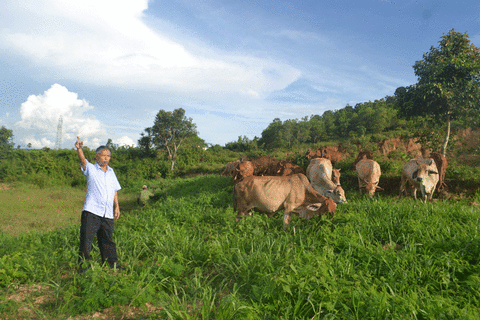 Mr. Le Quang Vinh introduced new grass varieties
Elephant grass VA06 and Hang Chong grass are no longer strange to cow raising households. Because, this is a variety with higher yield, quality and economic efficiency than common grass thanks to its sweetness, high protein content (VA06) and ability to withstand trampling (Hang Chong grass). According to Mr. Le Quang Vinh-Deputy Director of Dak Po Livestock Farm, the elephant grass varieties VA06 and Hang Chong belong to the DA15/1999 project by the provincial police in collaboration with the Department of Agriculture and Rural Development. . Until 2011, the two grass varieties mentioned above continued to be tested in Dak Po district and were highly appreciated. Thanks to the new breed pastures, the district's cow herd increased to 16,000 cows. Recently, Dak Po Livestock Breeding Farm cooperated with 46 households raising over 300 cows with a crossbreeding rate of more than 80%. The model not only creates jobs for livestock farmers but also helps the unit conserve precious cow breeds for the province.
Replication of large sample grasslands
The project of trial planting of 2 new grass varieties in Dak Po district was successful beyond expectations. Accordingly, VA06 elephant grass grows very well and can be harvested in just 60 days. In particular, elephant grass VA06 is soft, the roughness of the leaves is lower than normal elephant grass, so cows like to eat it. This grass variety also yields many times higher than regular elephant grass. If intensive farming, applying the right technical process, it can cut 8 litters/year with a yield of 300-350 tons/ha/year… Similarly, Hang Chong grass after trial planting also grows very well and is suitable. with the local climate and soil. This grass also has the advantage of being trampled and regenerated quickly, so it is very suitable for cattle grazing. With proper care, Hang Chong grass gives a yield of 80-100 tons/ha each year and especially can be stored for 10 years.
With the outstanding advantages of Elephant grass varieties VA06 and Hang Chong, after 7 years of project implementation, Dak Po Livestock Breeding Farm has transferred and replicated to hundreds of hectares throughout the province. In which, the area of Dak Po district is 50 ha, An Khe town (10 ha), Chu Pah (18 ha), Mang Yang (5 ha)… "The unit has built 2 models of growing elephant grass VA06 in the commune. Dak Ta Ley (Mang Yang district) for farmers to apply in mass planting. Currently, a number of cow breeding companies inside and outside the province have contacted to get grass varieties from the unit for testing. We are also researching on planting grass by drip irrigation technology, which is expected to be deployed in 2018 with an area of ​​about 5 hectares. This will be a project to ensure food for cows in the dry season," added Mr. Le Quang Vinh.
Mr. Truong Phuoc Anh-Director of the Department of Agriculture and Rural Development: Elephant grass varieties VA06 and Hang Chong are grass varieties that are very suitable for the climate and soil conditions of the Central Highlands. Currently, many areas have grown intensively, providing a part of food for cows in the area. Building a large sample grassland to ensure a source of food for livestock is the current trend of the livestock industry, especially in Gia Lai when there is a large land fund and many hilly areas with enough moisture for plants to grow. In order for the grass to grow well, it is necessary to study the method of using economical irrigation technology and intensive planting.
Source: Gia Lai Newspaper